Extend Newly Painted or Existing Paint by 10+ Years
Nano-Clear for industry
Industrial asset owners commonly apply protective topcoatings over steel surfaces to mitigate the effects of environmental exposure to the sun including oxidation, chemical attack damage, corrosion and desire for better appearance. Conventional industrial coatings "alone" are currently very susceptible to:
UV degradation; weathering; acid rain; water damage; corrosion; normal use;
What is needed?
An improved surface coating that protects industrial assets more thoroughly than any existing technology. A permanent surface coating that will enhance and extend the surface life of freshly painted or highly oxidized paint by 10+ years.
Nano-Clear NCI dramatically improves surface protection and brand image while significantly reducing surface maintenance expanses.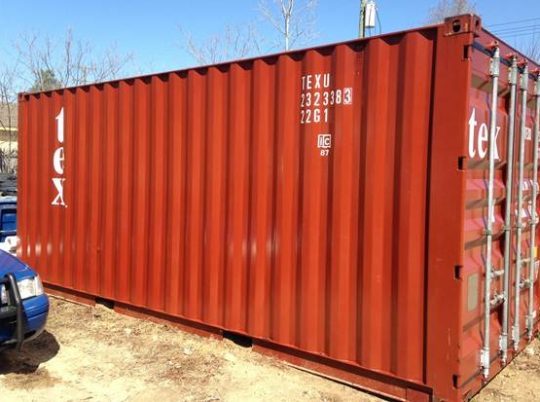 Extreme Corrosion Resistance
No Rust After 4000 Hour Salt Spray Testing
Extreme Abrasion Resistance
Only 8,4 mg loss after 1000 cycles, 1kg.
Weatherproof Gloss
99 % gloss retention after 4000 hours. Xenon WOM
1 K coating, ambient (humidity) cured
Dry to handle in 4 hours; Return to service in 24 hours
Reduce re-paint cycle by 2x-3x
 As documented in production case studies
Fire resistant properties – Class A / 1
Improves fire retardant & flame spread properties
Achieve Lower Operating Costs
By reducing maintenance time & extending your recoat cycle by 10 years
What Makes NCI Unique?
Nano-Engineering (not nano particles) Creates Exceptional Crosslink Density
Nano-Clear® NCI is manufactured using proprietary 3D nanostructured polymers – producing extreme crosslink density. NCI provides extreme corrosion resistance, abrasion, chemical & UV resistance and reduced surface maintenance. NCI penetrates deep into the pores of freshly painted or highly oxidized paints to enhance color, improve gloss, dramatically increase surface hardness, improve chemical and long-term UV resistance.
BMW validated Nano-Clear coating to have the highest gloss levels and DOI of any clear coating system they had ever tested.
Nano-Clear is a one-component humidity cured / highly cross-linked polyurethane/ polyurea hybrid nanocoating.
Why is Crosslink Density So Important?
Coatings contain "building blocks" with functional groups. The chemical reaction of these groups during curing forms a network. In most traditional polymers, the network is a linear chain of molecules with low crosslink density.
Conversely, we "nano-structured" our clearcoat to have a 3D molecular architecture.  The 3D polymer network has an exponentially higher number of crosslinked sites. The result is a tightly knit mesh with unprecedented DMA density.
High crosslink density provides highly functional surface properties, including unmatched corrosion resistance and UV durability. It also means low surface energy, repelling water (hydrophobic) and aiding in the release of ice, dirt, brake dust, and even concrete dust.
Linear chain molecules

3D molecular architecture
Unrivaled performance enhancement for newly painted or highly oxidized coatings
For the last 30+ years, coating chemistries have been variations on the same (linear chain) polymer themes. As a result, industrial customers are on endless treadmill: painting, then watching the subsequent oxidization, loss of gloss, corrosion, and paint failure… requiring, in turn, labor-intensive surface prep and repainting with the same conventional coating technology.
Put simply: NCI restores the color, gloss, surface hardness and extends the surface life of conventional coatings by 10+ years.
No matter how badly oxidized your existing coating is, Nano-Clear Industrial will restore its color and provide unmatched surface protection, backed by a full 10-years warranty.
Nano-Clear NCI is also designed to be applied directly over freshly coated surfaces including 2k epoxies, 2k polyurethanes and powder coatings.
How does NCI enhance color & physical properties?
NCI has a low (200 cps) viscosity, so it penetrates deep into the amallest pores of newly painted or oxidized coatings, turning the white, chalked layers transparent, allowing the original underlying color to show through white fortifying/hardening the surface. Humidity-cured at ambient temperatures, NCI quckly hardens and fortifies the painted surface, "locking-in" color and preventing future chalking with with its long-term UV absorbers.
Please note: NCI must be applied over the existing coating system before the coating has deteriorated into a powder, peeled and/or eroding state. NCI ir not a rust converter. Rust or peeling paints must be removed and repainted first with a coating such as a high solid, two-component epoxies, prior to applying NCI.
Without NCI after 10 month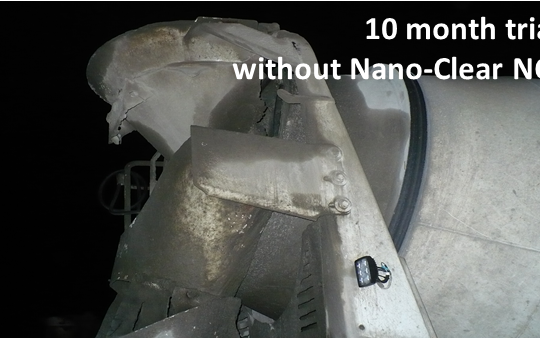 With NCI after 10 month
Even with its remarkably high surface hardness (4H), NCI stays flexible. This iron-phosphated steel panel, painted with Macropoxy® 646 Epoxy and then coated with NCI, bends in-half without cracking or any other failure to the coat.
Patvariausia Nano danga rinkoje
NCI Naudojimo instrukcija
NCI lankstumas
Ferromex - geležinkelis Meksikoje
GATX traukinio cisterna
UTLX - stipriai oksiduoto paviršiaus padengimas su NCI ir rezultatas po 1 metų
Traukinio cisternos padengimas su NCI
Epoksidinių grindų padengimas su NCI ir testavimas su chemikalais